Christmas Eve & Christmas Day Masses
All Christmas Eve Masses will be livestreamed, and the 9 AM Christmas Day Mass will be livestreamed.
Reservations Required
Reservations will be required to attend a Mass on Christmas Eve (4:00 PM, 6:30 PM, 9:00 PM) and Christmas Day (9:00 AM, 11:00 AM). The church will be seated to full capacity, with the exception of the section by the Baptismal Font reserved for social distancing. Masks are strongly recommended.
Mass reservations will be live on our website beginning Thursday, December 2 at 10 AM. Reservations will close on Monday, December 13 at 12 noon. To make a reservation, visit www.stbrigidofkildare.org and click the link in the top bar. You will be able to select your seating option (regular seating or socially distanced seating) for each Mass. Once the capacity for each location is full, that option will be closed out.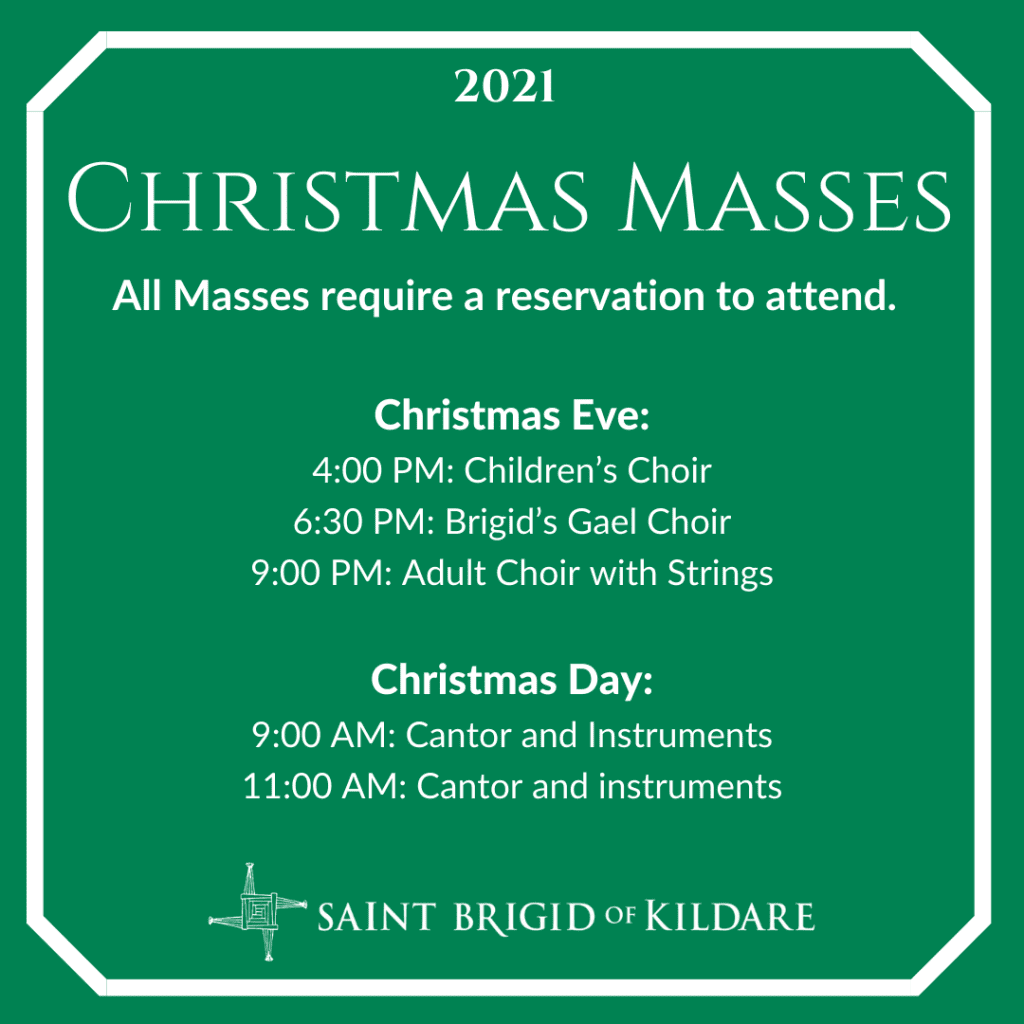 Livestreamed Masses will be available to view at youtube.com/stbrigidofkildarechurch. These are able to be watched live or played back later at the link above.
If you have questions, please contact the parish office at (614) 761-3734.
Christmas Mass Schedule 2021:
December 24, 2021:
4:00 PM: Children's Choir
6:30 PM: Brigid's Gael Choir
9:00 PM: Adult Choir with Strings
December 25, 2021:
9:00 AM: Cantor and Instruments
11:00 AM: Cantor and instruments
Reservations are required to attend any Masses on December 24 or 25. Reservations will be available here beginning December 2 at 10 AM.  Reservations will close on December 13 at noon.
New Year's Day Mass Schedule 2022:
Friday, December 31:
5:00 PM Mass
Saturday, January 1:
11:00 AM Mass
(No 5 PM Mass)
Parish Advent Activities
Sunday Evening Prayer and Reconciliation Service
Sunday, December 19 in the Church at 5 PM
Visiting Diocesan Priests will serve as confessors after the 5:00 PM Prayer Service.
Individual Confessions will be heard on Monday, December 20, from 7:00-8:00 pm in the Church.
Vespers Evening Prayer
Please join us for Vespers (Evening Prayer) on Sunday evenings during the Advent season from 5:00 p.m.—5:20 p.m. in the main Church. Vespers is part of the Liturgy of the Hours, also known as the Divine Office. In the Liturgy of the Hours, the church fulfills God's command to "Pray Always." Through this prayer, the people of God sanctify the day by continual praise of God and prayers of intercession for the needs of the world.
During Advent, Vespers will be held from 5:00 p.m.—5:20 p.m. on Sunday evenings, November 28, December 5, December 12 and December 19 (Includes reconciliation service)
Vespers is a beautiful service that lets you reflect, pray, sing out, and praise God for what He has done and who He is.
Taize Prayer
Tuesday, December 14 at 6:30 PM
Taize is a simple, meditative form of worship, calling us to dwell deeply on Christ's presence around and within us. Calm your heart and mind with this beautiful combination of song, silence and contemplation. We suggest you be prepared to light a candle during the service.
Parish Cookie Exchange
Wednesday, December 15th at 7PM | Hendricks Hall
Join us at 7pm on Wednesday, December 15th for a Christmas Cookie Exchange! All parishioners are invited to participate in this cookie exchange.
Please RSVP by clicking here to register for the event. Registration for the event ends on Friday, December 10th.
A few rules for our Cookie Exchange:
All participants should bring (3) dozen of their favorite cookies in exchange for (3) dozen cookies.
All cookies should be packaged in quantities of 6. This means you will bring (6) packs of cookies with (6) cookies in each pack.
All cookies must be homemade (or purchased from a bakery; not a grocery store).
You can deliver the cookies to Hendricks Hall Kitchen anytime on Wednesday, December 15th or you can bring the cookies with you. We will display all cookies prior to the exchange.
You are encouraged (but not required) to bring copies of your recipe with you to share.
We will have light hor d'oeuvres and holiday drinks for you to enjoy as you mingle. Christmas attire is encouraged.
For questions or to volunteer, contact Amie Lopez, parish life coordinator, at aslopez@stbrigidofkildare.org.
Advent Faith Formation Opportunities
Advent Upside Down
Wednesdays, December 1 – 22; 7:00 – 8:15 PM
Advent is that unchangeable season when the same concepts, the same words rise repeatedly, year after year, to challenge our hearts and plague our minds. How can we listen to them with new ears and with eyes open wide to see new moments of grace? So much of our lives and lives across the world have been under a very different kind of darkness – the darkness of a pandemic. With all its unknowns, so much of our lives has been turned upside down. Even as we begin walking out of the pandemic things are still so uncertain. In the silence and the darkness, we hear our own heart's cry, our own flame of desire, our own longing for God. IT IS ALL UPSIDE DOWN!
Our time together will be a blend of quiet, prayer, scripture readings and sharing. This is presented on ZOOM, so you must register by emailing Sister Teresa (ttuite@stbrigidofkildare.org).
ZOOM information: Meeting ID 871 3984 2373, Passcode: UPSIDEDOWN
Advent Pause for Prayer
Mondays December 6- December 20; 7:00 PM
This is reflective prayer combining music and silence. We will focus on the various themes of Advent. It lasts about 15 minutes. ZOOM information
Meeting ID: 825 3385 6351
Passcode: PAUSE
No registration is required.
Grieving During Advent
Thursday, December 2 at 7:00 PM (until no later than 8:30 PM)
For those who grieve, the season of Advent and the approaching holidays often intensify the feelings of loss. Please join with others who share that loss. We take time to learn from ourselves and comfort each other as we journey through the holiday season.
Please email Sister Teresa Tuite, OP at ttuite@stbrigidofkildare.org.
ZOOM information: Meeting ID 847 7370 1420 , No Passcode
The Voices around Advent and Christmas
It's hard to imagine what it must've been like to encounter the One who was foretold by prophets and arrived as a baby in a manger. In the series, we will hear from Isaiah and John the Baptist, but also hear the story of Christ's miraculous birth as told by people who saw Him firsthand, like Joseph and Mary, a wise man, and the innkeeper's son, as well as by Mary's mother and a shepherd's wife, who had to believe without yet seeing Jesus for themselves. We will listen to them to learn what they might have to say to us today and what we might have to say to them. It will be a blend of quiet, prayer, scripture readings and sharing. There are two options.
Tuesday Morning (men and women) we meet in the Berry Room after the 9:00 AM Mass. OR
Tuesday: 1:00 – 2:30 Nov. 30 – Dec. 21 (This is a "Little Rock" Women's Group, and we meet in the Carr Room in Hendricks Hall)
Advent Collections & Drives
Giving Tree
The Giving Tree Project has been a tradition for the generous parishioners of St. Brigid's for many years. The Giving Tree SignUpGenius in place of the traditional ornaments provides a safe and efficient alternative in these uncertain times. Please join us in providing gifts to those in need.
All gift requests will be listed on the SignUpGenius site.
where you will have the opportunity to choose a requested gift or make a monetary donation.
For more details on the 2021 Giving Tree and the charities it supports, click here.
Hygiene Care Package Donation Collection
St. Brigid High School Youth Ministry will be assembling hygiene care packages for the Vineyard Church's homeless ministry and food pantry outreach. This ministry is one St. Brigid High School Youth Ministry used to volunteer with before their ministry's structure changed; however, it is a ministry we continue to pray for and support.
We are hoping to assemble 100 hygiene care packages to be split and distributed at each of Vineyard Church's two food pantries.
We are collecting new toothbrushes, travel toothpaste, travel size bar soap/ shampoo/ conditioner, travel-size packs of tissues, mini hand sanitizer, mini bottled water, band aids, pads/ tampons, socks, gloves, and granola bars/ protein bars.
If you have donations to share, please visit https://linktr.ee/brigid_youthmin for further directions and to sign up for a donation slot.
Please leave your donations in the Hendricks Hall donation closet or outside the Hendricks Hall Massey Teen Room door by 5 PM on December 11, 2021. Thank you!
Red Cross Blood Drive
Monday, December 13, 1:30 – 7:00 PM, Hendricks Hall
With the holiday season approaching, the need for blood donation is critical! The Covid-19 pandemic has reduced donations. There is no manufactured equivalent to human blood; it must be donated to the Red Cross and then allocated to hospitals based on levels of need.
If you can spare an hour of your time on Monday, December 13, please consider donating in Hendricks Hall from 1:30 – 7:00 pm. The link to schedule an appointment is: RedCrossBlood.org using sponsor code: saintbrigid. You can also call 1-800-RED CROSS to register.
Thank you in advance for considering a donation. It is a perfect Christmas gift!
Youth Activities
High School Youth Ministry Advent Half-Night Lock-In
Saturday, December 11 from 5-10 PM
St. Brigid high school youth ministry is hosting an Advent Half-Night Lock-In! This event will be held on December 11 in Hendricks Hall and is open to all current 7th-12th grade students!
Join us for:
5 PM Mass in the Church
Dinner (pasta, salad, bread, and cookies)
Social + Service
giant Jenga, giant connect 4, assorted board games, trivia, + more!
Christmas cards for retirement & assisted living communities
hygiene care kits for the homeless
Advent Message
Live Music! Advent Worship
Registration is $15/ person. Visit https://linktr.ee/brigid_youthmin to register by 11/28
Please contact Laura Ginikos with event questions.
Saint Brigid of Kildare School Donation Drives
We will be helping to stock the toy shelves at the Common Ground Free Store in Delaware, Basement Blessings in Lewis Center, and the Our Lady of Guadalupe Center in Columbus. We will be collecting new and gently used toys and games (see below) to send off to each of these amazing organizations.
Saint Brigid of Kildare School Christmas Choir Concert
On Monday, December 6 grades 5-8 will gather in the church to perform their traditional Lessons & Carols Christmas concert.