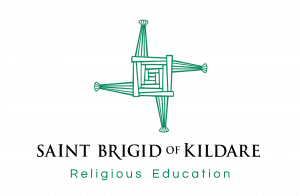 "One Faith, One Family"
Catholic faith formation is a lifelong process of spiritual growth, increased understanding, and commitment to the faith and traditions of the Catholic Church. Our desire at Saint Brigid of Kildare is to share as a community in the ministry of Christ, living as One Family and sharing in our One Faith. We hold dear the vital sacramental life of the Church, given to us by Christ, calling each of us to act justly, with love and mercy, living in communion with one another. Following Christ is a lifelong journey and we invite you join us. Catechesis at Saint Brigid is for all- children, teenagers, young adults, and adults. Welcome home to Saint Brigid!
Religious Ed Newsletter
Religious Education 2021-2022
Please contact us at 614-761-1176 with any questions. We are available by phone, Monday-Thursday 9 a.m.- 3 p.m. and Friday 9 a.m.- 12 noon.
Religious Education Update August 25, 2021
2021-22 Tuition Assistance Form
2021-22 Calendars
Coming soon!
Service Hour Form
To download a service hour form, follow the link:  service hour form. (Due to COVID restrictions, this requirement is currently suspended).
Offices
The Religious Education is located at:
7175 Avery Road, Dublin, OH 43017
Telephone: 614-761-1176
Fax: 614-761-1106
Religious Ed Teachers & Volunteers
We have an experienced staff of catechists. Opportunities for ongoing enrichment and classes for Diocesan Certification provided throughout the year. If you are interested in becoming a catechist, please contact Andrea Komenda. Volunteer opportunities: In addition to Catechists/Teachers; during each class time Teacher Aides, Hall Monitors and Childcare needed each week. Volunteers need not have children in the program to participate, but all volunteers must take Protecting God's Children and be fingerprinted according to Diocesan guidelines. Volunteers are also needed for special events. To volunteer your time and talent, call the Religious Education Office at 614-761-1176.