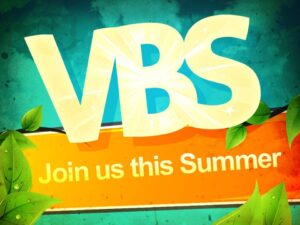 Vacation Bible School 2022
June 20-24, 2022
Registration for VBS 2022 is now closed.
Junior Volunteers
Fill out the form below.
Commonly Asked Questions about VBS
When is VBS?
St. Brigid's VBS is typically the 3rd full week of June. We start at 9:00 AM each morning and the closing assembly ends at noon each day.
How much does it cost?
The cost per child is $40.00. This covers all crafts, snacks and supplies throughout the week as well as a themed T-Shirt.
Who can attend VBS?
Vacation Bible School is open to children 3 years-old and potty trained by the first day of VBS through those entering grade 5 for the upcoming school year.
What grade should I enroll my child in? i.e. My child is currently in 1st grade but will enter 2nd grade in the fall.
Please enroll your child in the grade they will be entering in the fall. In the example above, you would register for 2nd grade.
I'm not a member of St. Brigid, can my child still attend?
We welcome members of all local churches as well as those searching for a faith community. Because we are a Roman Catholic community, our faith lessons follow Catholic doctrine and interpret the Bible through a Roman Catholic lens. We discuss topics such as the lives of canonized Saints, Mass, the Eucharist and Sacraments. If you are a non-Catholic, we welcome you to come, praise Jesus with us, and maybe learn something new about the Catholic Faith. We have more in common than you might think!
How do I register?
Registration and payment are done online. Registration opens in the spring and closes the last weekday of April or until we reach maximum capacity, whichever comes first.
Why does registration close?
Closing registration early allows us enough time to plan appropriately. We use this time to organize groups, make sure we have sufficient volunteers, and to order custom T-shirts and other supplies. While we would like to invite every child to experience our VBS and share the love of their faith with us, we do also have to set a maximum number. We follow the standards set by the Protecting God's Children (PGC) Program which require specific adult to child ratios in order to keep our children safe. Also, keeping group sizes manageable ensures that our children and volunteers have the most positive experience possible.
What does a typical day at VBS look like?
Children can check in with their group leaders in the school gym starting at 8:45 am. Opening assembly starts at 9:00 and introduces the theme and lesson of the day through a short skit or demonstration. Each age group is then dismissed to rotate through 5 stations that continue the day's lesson: crafts, games, snack, faith lesson, and music. All groups then reassemble in the gym where we will review what we learned and sing a song or two together before being released. We ask that parents pick-up their children directly from their group leaders as close to noon as possible.
What if someone other than myself will be picking up my child?
If a grandparent, babysitter or friend will be picking up your child, please list them in the emergency contact section of the registration page so that we know we are authorized to release your child to them. If this information changes after you have registered for VBS, please call the Religious Education office at 614-761-1176 to update it.
My child has a medical condition, what are your policies?
All our snacks are peanut and tree nut free, and we offer alternate snacks for any child with a gluten or dairy allergy. Please let us know what your child's needs are when you register so that we can serve your family to the best or our ability.
Do you accommodate children with special needs?
Yes! We strive to make sure all children who wish to attend VBS are included. If your child has any special needs, please indicate them on the registration form so that we can ensure the best possible experience for your child. If you'd like to talk to someone about whether or not VBS is a good fit for your child, you can contact the Religious Education Office at 614-761-1176.
Can I stay with my child?
While parents are welcome to be a part of their child's VBS experience, we encourage them to allow their child to blossom independently. We have a lot of fun at VBS, but we understand that some children have a harder time separating from Mom and Dad than others. Please let us know your needs and we will do our best to accommodate. If you decide you need to stay, you will need to be PGC compliant to rotate through the stations with the children. Please consider volunteering as a group leader so that you may experience the fun with your child while also helping serve others. See the next question for more information about adult volunteer requirements for PGC
I'd like to help! What are my next steps?
First, thank you for your interest in this amazing ministry!  VBS can't run without you!  Before you can be eligible, all adults (anyone graduated from high school AND 18 years old before the first day of VBS) need to complete the PGC guidelines as prescribed by the diocese.  This includes completion of the Protecting God's Children for Adults class as well as a fingerprint background check.  For more information on how to become PGC compliant with St. Brigid, visit the Safe Environment page or contact our Safe Environment Coordinator, John Denzel at jdenzel@stbrigidofkildare.org.
To sign up to volunteer, please complete the volunteer section when completing your child's registration.
I'd like to volunteer, but I have a child too young to participate. Is there childcare available?
We have childcare available for children (12 months to 2 years old) of adult volunteers only. If you have a child younger than 12 months and still wish to volunteer, please contact the Religious Education office to discuss alternate options.
Is financial assistance available?
We handle financial assistance requests for VBS on a case-by-case basis. If you have a financial need that would prevent you from coming to VBS, please contact Jennifer McManus at jmcmanus@stbrigidofkildare.org before registering.
What is your refund policy?
If you find you are no longer able to attend VBS, please let us know as soon as possible. While we will try to accommodate refund requests, we cannot guarantee them due to budgeting and planning limitations. We do not offer refunds once VBS has begun.