The essential properties of marriage are unity and indissolubility, which in Christian marriage obtain a special firmness by reason of the sacrament (CCC 1056).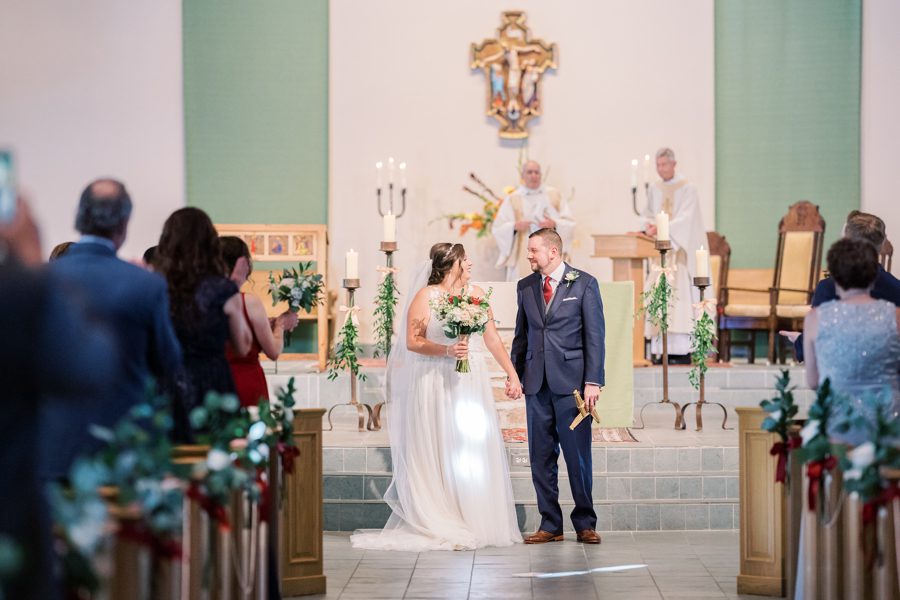 Marriage Guidelines Before Setting a Date
St. Brigid of Kildare supports you in your commitment to a faithful and lifelong Christian marriage. We want to help you deepen the qualities and develop the skills that promote a loving relationship of mutuality and interdependence.
It is with an understanding of the richness and beauty of the Sacrament of Matrimony that the Church seeks to demonstrate that thorough preparation in combination with your own love, good intentions, realistic expectations, and God's grace provides the strongest foundation for the happy and lasting relationship you desire.
For this reason couples wishing to marry at St. Brigid must be established registered and active members in the Parish for at least six months before a wedding date may be scheduled. Once the couple is established in the parish, the couple may request setting a date to be married after completing the following tasks:
Couple contacts the Parish Office and schedules a meeting with one of the parish's clergy;
Couple meets with the clergy and completes an initial interview to explore the couple's background and freedom to marry;
Clergy discusses any obstacles that may exist before the couple is free to marry and set a date, such as the need for an annulment.
Once these steps are complete, the couple and clergy may set a date and enter it into the parish calendar.
Marriage Preparation Process
The marriage preparation process includes several tasks to be completed by the clergy and couple. To learn more about our Wedding Guidelines, contact the parish office. Following are highlights of the steps:
Couple obtains and reads the Wedding Guidelines, and fills out the enclosed Information Sheet and the Rite of Marriage Agreement.
Couple completes the FOCCUS (Facilitating Open Couple Communication, Understanding, and Study), which is a web based survey covering a wide range of topics regarding relationships and married life. We will provide login instructions when you are ready complete this step.
Results of the FOCCUS are discussed with a trained married couple of the parish through our Couple-to-Couple ministry as well as the clergy.
The couple must also attend a diocesan or St. Brigid of Kildare sponsored Pre-Cana class preferably six months before the wedding date. Pre-Cana runs on a Friday from 7-10 pm and Saturday, 11 am-5 pm with attendance at the 5 pm Mass, ending with a blessing for the couples in attendance. Pre-Cana is offered twice a year at St. Brigid.

Click below to register for our upcoming classes:

The couple provides all necessary documentation, such as Baptism certificates and a marriage license to the Parish Office.
The couple meets with the Parish Wedding Coordinator and Music Coordinator.
Contact the parish office at 614-761-3734 to get started.