"C'ead Mile Failte"
(A Hundred Thousand Welcomes)
Our Irish roots are reflected in the above Gaelic blessing that St. Brigid of Kildare has used to welcome the thousands of parishioners that have joined our parish since its founding 30 years ago.
St. Paul's instruction to the Romans was to "welcome one another as Christ has welcomed you" (Rom 15:7). With this in mind, the theme for our Tapestry Program is Hospitality. Led by our Steering Committee, our various committees, ministries, and parish leadership will focus on making our parishioners and visitors feel at home in our parish. Hospitality is the first thing that greets you when you walk through our church doors. Let us all work together to make our visitors feel that they are part of the Body of Christ and an integral part of our communal worship.
If you're new to the parish, welcome! Click here for more.
If you're considering becoming Catholic, Learn more about RCIA here.
St. Brigid of Kildare was established in 1987 and is the only Roman Catholic parish in Dublin, Ohio.
We currently have two resident priests, Fr. James Black, Pastor, and Rev. Tim Lynch, Parochial Vicar. In addition, our staff is located between the Parish Offices at 7179 Avery Road and the Education Center at 7175 Avery Road. Please see Parish Staff for specific contact information.
Currently, St. Brigid of Kildare Parish has over 3,000 families with approximately 12,000 parishioners of all ages. As a vital and young parish, we perform about 250 infant Baptisms per year and celebrate over 200 Confirmations and First Holy Communions per year. St. Brigid also celebrates about 30 weddings and 20 to 30 funerals each year. Through the Rite of Christian Initiation for Adults commonly known as RCIA, we welcome about 15 to 30 adults into the Catholic Church each year.
Location
St. Brigid of Kildare Catholic Church is located at 7179 Avery Road in Dublin. From most locations throughout central Ohio, take I-270 to Route 33 West. Exit at the Avery/Muirfield Road exit and turn right and travel north. See the Google map to St. Brigid of Kildare on our home page. Pass through the round-about and proceed to the right continuing on Avery/Muirfield. Take the second left remaining on Avery Road to St. Brigid Church, Parish Offices, and Education Center are on the left side of Avery Road. St. Brigid's Green athletic complex is on the right side of Avery Road. Parking for Mass is on both sides of Avery Road with crosswalk access over Avery Road. Overflow parking is available at the Radiant Life Activity Center at 7055 Avery Road.
Parish Mission/Prayer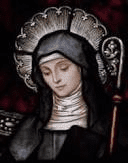 Heavenly Father; we seek to become
of our Parish family. Bound by faith, hope
and love, we desire to do your will and to
promote the spiritual fulfillment of those
we serve. We ask your help, O Lord,
in knowing and sharing the truths
of our faith. Amen.
St. Brigid Pray for Us.
(Composed by the Founding Parish Steering Committee, October 1987)
Our Patroness, Saint Brigid of Kildare
Saint Brigid of Kildare, known to the Irish as "Mary of the Gael", is the ideal patroness for this Dublin parish. Brigid was born in the late fifth century in County Louth, and may have been baptized by Saint Patrick. She founded the monastery of Kildare, the first religious house of women in Ireland, which later became a center of learning and religion for both women and men. Saint Brigid was best known for her concern for the poor and the hungry, always giving to those in need. Wherever mercy is shown to those in need, wherever the hungry are fed, wherever justice and peace are the goal, Brigid is there.
Saint Brigid is one of the three great patron saints of Ireland, along with Patrick and Columba. Her feast day is February 1st. Her symbols are many, including the oak leaf, the acorn, the cow, a bowl of fire, and her unique woven cross. Her patronages include school children, mothers, dairy workers, and the sick.
Always, this was her desire: to feed the poor, to repel every hardship, to be gentle in every misery… Towards God she was simple; towards the wretched she was compassionate; in miracles she was splendid… Therefore among created things she is like the Dove among birds, the Vine among trees, the Sun above stars…She is the Mary of the Gael.