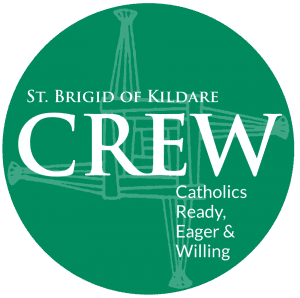 Catholics Ready, Eager & Willing
CREW which stands for Catholics Ready, Eager and Willing is a new parish group! Throughout the year, there are many times that we could use your hands to help make a difference here at St. Brigid of Kildare.
This is not a committee with members and monthly meetings. This is not a year-round commitment. CREW is just a list of parishioners who are ready, eager and willing to help around our campus and during special events.
Sign-up today to receive all the CREW requests via email but only commit to those that appeal to you and fit in your schedule! You'll meet new people, feel connected to our parish family and be the first to know that we aren't too shy to ask for help!
Do you enjoy hosting guests? We could use you!
Would you be a pro at directing traffic? We need you!
Do you like to put furniture together? We'd love your help!
Do you have 30 minutes to spare? Maybe an hour? Maybe three? A sporadic schedule? No problem!
Click below to be added to our email list.
Help CREW with Sunday Socials
If you are looking for a family service opportunity, want to get involved at St. Brigid and meet new people, or just want first dibs on the breakfast treats, host a Sunday Social!All the little details are taken care of — we just need your helpful hands to set-up, serve and clean-up. Pick a Sunday that works for you, and bring your family or coordinate with a group of friends and come be a part of the St. Brigid Parish community in a super easy way. Additional details are provided in the sign-up link. If you are eager and willing to help, please sign up below.