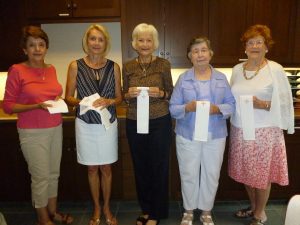 There are many ways to participate in the mystery of the Catholic Faith.
The mission of this committee is to promote and develop an environment for the worship of God and the spiritual life of St. Brigid Parish. It is an advisory committee that reports to the Steering Committee. Members represent various liturgically oriented ministries as outlined below.
Contact information can be found in the Guide to Parish Life.
Parish organizations under the Worship & Spiritual Life Committee:
Liturgical Ministries (includes Liturgical Ministry Captains, Eucharistic Ministers, Lectors, Greeters, Ushers, and Altar Servers)
Click here to learn more about how to serve during Mass through liturgical ministries.
Church Art and Environment
Committee volunteers ensure that the church is decorated each week according to the season and celebrations of the Church calendar. Volunteers are needed to help water and maintain green plants and altar arrangements each week and to help decorate the church for Christmas and Easter.
Click here to sign up to be on the Art & Environment Committee and/or to receive emails with their volunteer opportunities.
First Friday Devotion & Eucharistic Adoration
On the first Friday of each month, Eucharistic Adoration with Exposition of the Blessed Sacrament begins after the 9:00 a.m. Mass and concludes at 4:00 p.m. All are invited to stop by at any time to pray or if you prefer, to commit to a scheduled time for adoration.
Learn more about Eucharistic Adoration, and find the sign up link here.
Family Rosary
All are invited to come and pray the rosary each Thursday morning at 10:00 a.m. in the church cry room. The Blessed Mother has promised special graces to those that pray the rosary; come and experience the beautiful tradition of praying the rosary with your parish family. Children are welcome.
Holy Wash: Martha's Ministry
Volunteers collect and carefully wash purificators and other linens used for Masses each week. Purificators are the linens used to cleanse the chalice between and after use by communicants. It is an encounter of holiness in the ordinary, where work becomes prayer and prayer springs from work. This is a ministry that appeals to the detail-oriented person who enjoys working "behind the scene." Ideally, the commitment is once a month or less.