Early Voting – Misleading Facts About Issue 1
The Catholic Church supports and defends women, children, and vulnerable Ohioans through accompaniment, social services, and material assistance. A misleading amendment on the ballot this November suggests that a "right to an abortion" is needed to protect women and children, while the amendment would actually put women at risk and endanger preborn children.
Catholics must Vote NO on Issue 1 to reject this misleading amendment because…
Miscarriage care and ectopic pregnancy treatments are already protected by state law; generations of women's healthcare in Catholic hospitals prove that our society can protect women without enshrining a "right to abortion" in our constitution.
As Catholics, we follow a Savior who is "the Way, the Truth, and the Life." Catholics, therefore, must reject Issue 1 because it is NOT the way to protect women and children, it does NOT represent the truth about miscarriage care and ectopic pregnancy treatment, and it does NOT respect the dignity of human life.
Your vote is needed to save Ohio from this extreme amendment. Find your early voting location at www.voteohio.gov and protect women and children in Ohio by Voting NO on Issue 1.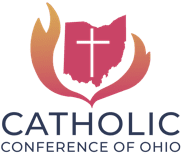 The Catholic Conference of Ohio is the official voice of the Catholic Church in Ohio on public policy, advocating for the dignity of life at all stages, immigrants, Ohioans in need, and Catholic education. www.ohiocathconf.org